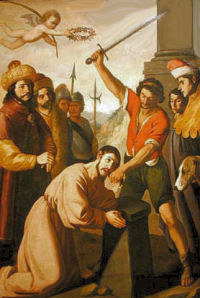 The Word for Today: Acts 12:1-24
mark this: Acts 12:2
"He killed James the brother of John with the sword."
The majority of chapter 12 in the book of Acts focuses on the Peter's miraculous escape from prison. It is a compelling story, full of irony, and it helps us to see the power of prayer (even when we don't believe that it's that powerful). But there is another story in this chapter, and one that does not end so well for one of the twelve apostles. I don't want to see James, and his sacrifice, lost in the shuffle of all these amazing and supernatural accounts. In his case, there was no intervention, no angels, no rescue- just a martyr's death. Why James was killed and Peter was set free is forever a mystery of God's sovereignty.
The following obituary was taken from the Jerusalem Post, circa 44 AD. I hope it inspires each of us to live boldly for God, regardless of whether He chooses to miraculously rescue us or not.
JERUSALEM— James Bar-Zebedee, 35, of Bethsaida, Galilee, violently went to be with the Lord, after a long and courageous fight of faith, and an unusually quick and unjust execution by Herod Agrippa I. He was the first of the 12 Apostles to be martyred for his faith. Born during the reign of Emperor Augustus in Galilee, he was the son of the late Zebedee (a well know fisherman) and Salome (1).
James grew up as a fisherman, and was expected to take over his father's business when, in his early adulthood, he and his brother John unexpectedly left everything to follow one Jesus Christ. James and John would joke to their confused family that they were now "fishers of men(2)." Upon leaving his hometown and family business, James spent the next 3 years traveling with Jesus. During those years, he moved all about Israel and beyond- to places as far away as Tyre & Sidon, Caesarea Philippi, Samaria, the Decapolis and Perea (3).
James was sometimes mistaken for the other Apostle James (the son of Alphaeus), or the half-brother of Jesus, early church leader and Epistle writer James. He was also often lost in the shuffle between his boisterous and impetuous friend Simon Peter, and his younger, but better known brother John. Yet he was included with them both as they were part of an exclusive inner-circle that witnessed things that even the other Apostles did not, including the raising of Jairus' daughter, Jesus' prayer in Gethsemane, and the transfiguration of Jesus (4).
It was probably in Samaria where James and his brother John received their nickname "Sons of Thunder" by Jesus. On that occasion, James, indignant due to the terrible hospitality Jesus and His men received from the Samaritans, wanted to "call down fire from heaven to destroy them (5)." He was rebuked. Later on, he got into some hot water with the other disciples when his mom Salome went before Jesus to try to arrange the places of honor for her boys. Jesus instead took that whole situation to show the true nature of greatness via serving (6). Ironically, it was at this very moment when James claimed he was ready to drink from the same cup of suffering as his Lord. Nearly a decade or so later, James died for his commitment to Jesus Christ.
In addition to his mother, James will be sadly missed by his younger brother John, and his close associates Peter (who may soon join him), Andrew, Philip, Bartholomew, Matthew, Thomas, James son of Alphaeus, Simon the Zealot, and Thaddeus. There will be no visitation. Family and friends are invited to live all the more devoted to His Savior.
(1) Matthew 27:56
(2) Matthew 4:19
(3) Matthew 15:21-28 & 16:13, Mark 7:31, Luke 9:51-56 & 17:11, Mark 10:1
(4) Mark 5:37, Mark 14:22, Matthew 17:1
(5) Mark 3:17, 9:54
(6) Matthew 20:20-28